NHRA's Youth and Education Program (YES) Presented by Western Technical College
NHRA is an acronym for National Hot Rod Association. Founded in 1951, the company was originally created as a means of getting hot-rodders off the streets and into a safer environment. Today, the NHRA is the world's largest motorsports sanctioning body and the foremost promoter of drag racing in the world! It entertains millions of racing fans per year, with the fastest and most spectacular form of entertainment on wheels. The NHRA's premier racing series features 24 national championship events each year.
Western Tech is proud to be a presenting sponsor of the NHRA Youth and Education Services (YES) Program. This one-of-a-kind program opens the door for the next generation of technicians and performance enthusiasts through S.T.E.M. education, which is what our College is all about. Allowing you to explore a variety of available technical training programs that will prepare you for one of the many rewarding career opportunities available to Western Tech Graduates in motorsports, transportation, and other related industries.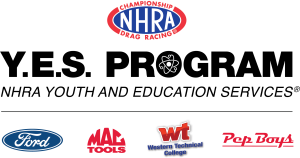 Car people know … there's nothing better than a day spent under the hood, getting dirty and finding and fixing problems.
Being able to work with engines and the love for vehicles is only part of the reward of becoming an automotive technician. Auto technicians will always be in demand despite of slumps in the economy because vehicles will always need to be maintained. In addition to working in a field you love, auto technicians gain a wide range of knowledge and experience and have great opportunities to work for major corporations or one day, become self-reliant.
Whether you've always loved cars or are just now discovering your passion, Western Technical College's Master Level Accredited Automotive Technology Program can get you behind the wheel of this fun and fast-paced career field. Learn more
Put Your Career In Overdrive!
Learn From the Best: Western Tech's Automotive Technology program is more than just an auto mechanic school it is one of the few private career schools in the nation to offer an Automotive Technician program that is Master Level Accredited by the ASE Education Foundation, a division of the National Institute for Automotive Service Excellence (ASE).

Career Opportunities for Automotive Technicians
| | | |
| --- | --- | --- |
| Automotive Technician | Lube Technician | Light Duty Engine Technician |
| Diagnostician | Auto Mechanic | Engine Builder |
| Service Writer | Brake & Wheel Alignment Specialist | Automotive Tuner |
| Transmission Specialist | Air Conditioning Technician | Dyno Operator |
| Gas Engine Specialist | Light Duty Diesel Technician | Import Specialist |
As an option, the Independence Place Apartments and Western Tech have come together with Corporate Connections to provide a convenient and affordable option for students needing living assistance. These 1,400sq ft, 4 bedroom / 4 bath apartments are located just minutes away from our Northeast Campus at 4011 Alabama Street, El Paso, Tx. 79930. Independence Place offers the following amenities for Western Tech students:
Learn more