ATTENTION BUSINESS OWNERS!
Western Tech's E2B, Education 2 Business Program, allows you to help your employees earn a bachelor's or master's degree through your company's employee benefit program.
WHAT'S IN IT FOR YOU?
Western Tech will partner with you to help you offer this benefit. These advantages are what you'll get:
A more skilled, educated, and qualified workforce.
Increased employee retention and improved morale.
A flexible schedule that will allow your workers to attend school without missing work.
An arrangement to be used as a recruiting tool to attract new hires.
Programs Offered:
Bachelor of Science in Technical Management
Finally, a way to finish! We have designed a path for your employees to use their previous schooling and work experience to earn a bachelor's degree. The Bachelor of Science in Technical Management is a 19-month fully online completion program that accepts some previously earned credits from associate degrees in technical fields. Here's one plus: With this fast-paced, fully online program, there's no need for your employees to start over! Here's another: Everyone is online, and no one has to miss any work! Win, win.
Bachelor in Business Administration
Set your employee(s) apart! We aim to develop leaders who can be ready to contribute on the first day. Your employees/students will be able to use a variety of business skills in areas like payroll, staffing, scheduling, budgeting time and money, training new staff, orienting new hires, and more. All of this without missing a day of work.
Masters in Business Administration
Not your average MBA! We aim to develop leaders who can immediately add to your bottom line. They will be leaders and problem-solvers. Graduates of this 16-month fully online program will walk out as supervisors, managers, and mentors because a program at this level will enhance their business skills and prepare them to share your workaday burdens.
Why Western Tech?
The Education 2 Business Program offers your employees the opportunity to obtain a Bachelor's or a Master's degree through your company's employee benefit program. Partnering with Western Technical College, provides you the ability to expand your employee benefits, boost employee morale, and improve employee retention and productivity.

Accredited by the Accrediting Commission of Career Schools and Colleges (ACCSC).
Western Technical College is approved and regulated by the Texas Workforce Commission (TWC), Career Schools and Colleges Section, Austin, Texas.
Wester Technical College's degree-granting programs are approved and regulated by the Texas Higher Education Coordinating Board(THECB).
Tuition and Payments
As partners in education, Western Tech has developed a convenient and uncomplicated method for employers wanting to participate in the Education 2 Business Program. For more information on the different tiers and cost, fill out the form below.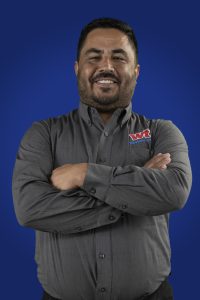 John Nuñez
B2B Administrator
(915)479-2309
jnunez@westerntech.edu