DSR Welcomes WTC Students Back Into The Pits!
May 14, 2021
Last week Don Schumacher Racing (DSR) sent out a press release that highlighted our partnership and the most recent students that were selected to go out and complete their internship. Each of them are proudly representing their "team"!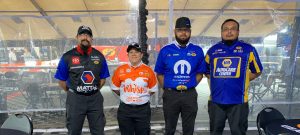 PHOTO –Group shot (Justin Miles MATCO TF, Sarah Arenivar NAPA FC, Thomas Brown Hagan FC , Jesus Gomez Leah TF,)
This is the first group of students that have returned back to the races since the pandemic. Let's wish them luck!
Below is the Press Release that was shared for you to review. DSR also tagged us on several social media sites expressing their excitement of getting back into the pits! 🙂
BROWNSBURG, Ind. (May 13, 2021) – Four new faces were present in the Don Schumacher Racing pits during the NHRA Southern Nationals at Atlanta Dragway, the most recent event on the NHRA tour, as drag racing's winningest organization kicked off its eighth year of hosting interns from Western Technical College.
Since 2013, DSR has welcomed Western Tech students into the pits to provide them with a hands-on experience of what it's like to work in the world of professional motorsports. The aspiring mechanics are offered a unique opportunity to turn wrenches and work alongside championship-winning crew members as they prepare the fastest accelerating machines on earth for on-track competition.
In addition to the Atlanta race, DSR's current class of interns will also be present at the upcoming NHRA Four-Wide Nationals and Mopar Express Lane Spring Nationals Presented by Pennzoil. Ultimately, DSR will host 20 Western Tech interns (five groups of four) throughout the 2021 NHRA Camping World Series season. The alliance allows DSR's four nitro teams to benefit from the addition of an extra set of hands, while Western Tech students have the opportunity to gain real-world high-performance automotive experience, which may help them determine if a career in professional motorsports is one they would like to pursue upon graduation. Many of the DSR-hosted Western Tech interns have gone on to work in professional motorsports, including Josh Munoz, Cylinder Head Specialist on Leah Pruett's Mopar Dodge//SRT Top Fuel Dragster.​​​​​​​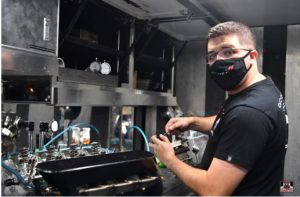 "I was an intern on Leah's car in 2019, and I can say with certainty that the hands-on training I received during that three-race program prepared me for what I do out here now as a permanent member of the team," said Munoz, who became a full-time mechanic on the NHRA tour upon graduation from Western Technical College. "It wasn't just about the actual training, but I got to experience what it was like to actually live this lifestyle where you travel all of the time, so I knew what to expect and all that comes with working a career in professional motorsports. It's more than just working on a car."
The partnership between DSR and Western Tech extends back more than a decade, having begun in 2009 when Matco Tools/Toyota Top Fuel pilot Antron Brown visited the El Paso, Texas campus during their annual Motorsports Day. The relationship grew from there, developing into an internship program in 2013, and in 2014, Western Technical College was named 'The Official Technical College of Don Schumacher Racing.'
"We're excited to continue and grow the partnership between DSR and Western Technical College in 2021," remarked Jack Werner, Director of Strategic Partnerships. "As we enter another year with the DSR Internship Program, we look forward to providing DSR with many quality entry level technicians that ultimately can become members of a professional race team. The training and experience our students receive from taking part in the DSR internship can't be duplicated anywhere else in the world. It is truly a remarkable experience for our students."
To be selected for the DSR/Western Tech internship program, Western Tech students must possess excellent grades and a strong attendance record in addition to writing a letter detailing why they should be considered for the position, and undergoing an in-person interview. Aspiring mechanics interested in pursuing an education at Western Tech should visit www.westerntech.edu