Western Tech Becomes First COMTA School in Texas
April 5, 2018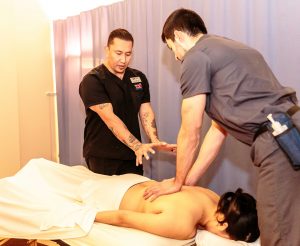 Pictured above isRay Arroyos (black scrubs), Western Tech Massage Therapy instructor and WT Massage Therapy students
Western Tech Becomes First COMTA School in Texas   
El Paso, Texas – March 28, 2018 – Western Technical College's Massage Therapy Program recently launched a new curriculum endorsed by the Commission on Massage Therapy Accreditation (COMTA), making it the first and only COMTA recognized school in the State of Texas.  Commissioned by the U.S. Department of Education, COMTA is the only accrediting body that dictates massage therapy curriculum by a review process that sets rigorous standards in which less than 1% of schools' meet nationwide.
"It is a great honor to have this recognition," says Pablo Vargas, Program Director for Massage Therapy.  "It shows Western Tech is one step ahead of other institutions and meets a higher standard in the quality of education we provide to our students."
Since its development in 2006, Western Tech's Massage Therapy program has continuously ensured a quality level of education that prepares students for a successful career.  Vargas and Western Tech will continue to focus on becoming a fully COMTA accredited program in the near future.
For more information about Western Tech, please call (915) 532-3737 or visit www.westerntech.edu.
About Western Technical College
Founded in 1970, Western Technical College has been a family-owned and operated nationally accredited institution of higher education for four generations in El Paso, Texas.  Western Tech is committed to supporting its students from the time of enrollment, throughout the program of study and through graduation and employment.  Western Tech's mission is to provide quality training and education in a caring, professional environment that prepares new students and working adults with the skills they need to succeed and advance in their chosen careers.