Register for Weekly Prizes! TRegala ,Watch and Win Promotion
March 28, 2018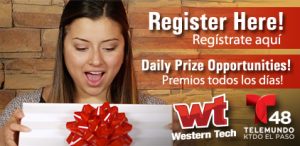 During the entire month of June, Western Technical College and Telemundo 48 present the exciting Watch and Win promotion.Through an on-air,online,and on the streets campaign we invite viewers to register for a chance to win lots of money and great prizes such as jewelry, tablets, furniture, concert tickets, gift certificates and much more.
Don't pass up your opportunity to try your luck in the money machine . Come get your :30 seconds in Telemundo's Money Machine!!! Whatever you can grab.. You keep!
Visit us at one of our live radio remotes during the month of June from Noon to 2 :00 p.m.
June 3rd Main Eastside Campus,
June 10th Branch Northeast Campus,
June 17th Main Eastside Campus,
June 24th Branch Northeast Campus
Plus, register here for weekly prize opportunities! !