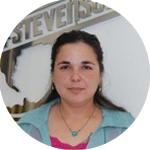 "Western Tech has been a part of my personal and professional life since I first started there as an automotive student.  The knowledge and Real World training I received at WTC is what has allowed me to be taken seriously as a technician, not just a girl trying to do a man's job," commented Gaston.
After graduating from the Automotive Technology Program at Western Technical College, Gaston went on to become an instructor and internship coordinator for the Diesel Program where she later was nominated and the recipient of the Career Colleges and Schools for Texas Awards of Distinction (CCST) at the Annual Conference. Gaston stated, "This award is an acknowledgment that hard work and perseverance do get recognized.  We go through life trying to do what we can to achieve personal success and provide for our families, this award shows us that I am probably going in the right direction."
Gaston was nominated by Helen Garcia, Career Service Director at Western Technical College. Helen stated, "It's a personal honor and certainly a feather in the college's cap.  I work very hard with students, and so do members of my team, and I am so very proud of Nina and all of the other graduates that have proven time and time again that they matter, and they can make a difference."
Shortly after receiving the award, Gaston was hired on by Stewart & Stevenson Power Products as the Aftermarket Account Representative.
MORE GRADUATE SUCCESS STORIES