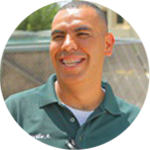 "I had a family," Alvarez said. "I was able to work and go to school at the same time. That's what got me to go to Western Tech. I would recommend no other colleges. I know the flexibility that Western Tech offers. For people like me, who have families and need to work, it truly is a college for the Real World."
Upon graduating from the HVAC Program, Alvarez started working as an entry-level technician at a hospital. After only six months, Alvarez was promoted to lead supervisor and six months after that, became the HVAC manager at the hospital.
Alvarez's successes did not stop there, he then went on to becoming a regional chief engineer. "It was my dream to become somebody big, and here I am, thanks to my training at Western Tech," Alvarez said.
"HVAC has brought me to where I am, right now," Alvarez said.  "It was my dream to become somebody big, and here I am."
MORE GRADUATE SUCCESS STORIES